SERVICES
Information society: Consultancy
We apply our knowledge, our methodology and our expertise to design and develop projects and programmes aiming at applying new information and communication technologies in the most suitable way, with an overall an integrated approach.
Strategic plans for introducing the Information Society and setting the ideal frameworks for generating feasible and coherent actions.


Programmes supporting new business initiatives based on new information and communication technologies .


Programmes for supporting and qualifying new professional profiles relating to new technologies.


Programmes for introducing telework strategies in businesses, administrations and bodies.


Programmes for improving the professional qualifications and competences required by the introduction of new technologies, mainly in the field of e-management and e-organization.


Projects for setting up and managing Telecentres.


Designing systems for applying new technologies to knowledge management, specialized information and documentation.


Projects on consultancy and setting up of new technologies for business development and innovation.


Technological counseling and follow-up for technological innovation processes.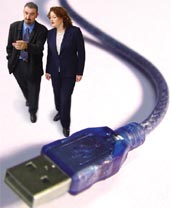 Consultancy & projects on information technologies